---
DavedK - 7/10/2018 at 03:34 AM

Hi, everyone.
Some of you may remember me.
For those others, please allow me to introduce myself.

My name is Daved and I was Gregory's equipment technician for 10 years, from January, 2005 to February, 2015.

I had been guitarist Robben Ford's tech/tour manager for over 10 years when, while touring in Japan during October of 2004 we got a call from Gregg's management asking if Robben would be interested in being a member of Gregg's 2005 GA & Friends touring band.

Robben said "sure" but insisted that his tech, me, had to be part of the deal. It was agreed so we began rehearsals at Gregg's home in January of 2005, followed by a six week tour leg through February.
I ended up taking care of Robben's gear, Myron Dove's basses and rig, Neil Larson's piano, and Gregg's guitars plus B3 & Leslie's.

Gregory and I hit it off very well so he asked if I would be interested in working with him in the ABB.

Robben had reached a point in his career where he wanted to take a hiatus from personal touring to concentrate on teaching so hiring on with Gregory worked out well.

Working with Gregg over the next 10 years was a wonderful experience. He proved to be kind, gentle, grateful and respectful.
I have many fond memories of Gregory , the bands (both ABB & GAF), and the tours. Upon reflection, I have only positive things to say about the man.
I am currently writing a book about my nearly 40 years as a road tech. The chapter[s] involving Gregory and the brothers will be a significant portion of the book.
I'm hoping to publish it within a year or two.

After the Allman Brothers Band's final encore at their epic oct 29, 2014 Farewell Performance at the Beacon Theater, Gregory focused on and continued with his solo group, GA & Friends.

I continued with him for another 6 months before deciding to, after 35 years, finally get off the road, buy a home, marry Kimberly (a beautiful lady I had known for 20 years), and formally retire.

I came out of retirement very briefly to help out Robert Cray for a couple of weeks while his tech was dealing with family issues in Europe.
I also did some work for the Portland and Seattle SIR's repairing/rebuilding their rental B3s and Leslies in my spare time.

Eventually I hired on at the local Guitar Center as their guitar repairman.
It lets me continue working with the stringed instruments I've always loved , while still being able to go home each night to the lady, family, and house that I also love.

For a time, I kind of slipped away into the comfortable shadows of my new life, enjoying the pleasures of family and home.
Sure, I will always remember and cherish my 40+ production and touring years.
But now I'm happily into the new chapters of my life, relaxed and rewarding in ways that were never available to me for nearly half a century.

But, into each life some rain must fall.

Thru the last holiday season and into the first few months of this year my beautiful bride Kimberly succumbed to the flu, putting her into a coma for 6 weeks and the hospital for two months, followed by a month of recovery here at home requiring me to take a leave of absence from work to care for her.
But it was worth it as she did recover and is doing so much better these days. Yay!!!

However, it is now my turn.

My wife, concerned about major changes in my voice and dramatic weight loss, urged me to see my doctor.
Three weeks ago I was diagnosed with cancer of the vocal chords.

Tests, scans, imagings, and consultations have moved fast.
In one week I will begin radiation treatments on my throat, five days a week for at least eight weeks, followed by a lengthy recovery.

I will need to take another leave of absence from work.
As Kimberly cannot work because of her own health issues, our main source of income will be put on hold till I recover.
Medical bills and expenses will be steep, not to mention the continued costs of everyday living ( mortgage, utilities, food, etching.) and without my income from work, we will be in serious trouble.

One of my coworkers at Guitar Center graciously started a GoFundMe account to try and help ease the stress of my situation.

Those that know me know that I really do hate to ask, but I'm hoping that some of you can help us out by donating anything you can and/or sharing the GoFundMe link below on your Facebook and social media networks.

It is not just a serious time of need for me, but also for my family.

Thanks for any support and assistance you can give.

All my best to you all.
Gregg, the Allman Brothers Band, and all of you loyal and dedicated Allman fans will be in my memories and heart till I greet Gregory once again.

Sincerely, Daved


https://www.gofundme.com/help-david-while-he-battles-cancer



[Edited on 7/10/2018 by DavedK]

[Edited on 7/12/2018 by DavedK]
---
BrerRabbit - 7/10/2018 at 05:04 AM

Hang in there. Get better! Gonna be alright. Prayers and best to you and yours.
Nice taylor btw.

---
nebish - 7/10/2018 at 12:49 PM

Yes I do remember you from your posts before when you contributed some tidbits about what was going on with the shows.

I am so sorry to hear of your situation. You can count on my support.

Stay strong and positive.
---
absnj - 7/11/2018 at 05:33 PM

Hi Daved! I am so sorry to hear the trials and tribulations your and your lady have been through. I hope brighter days are on the horizon.

I will forever be in your debit for giving me the best ABB experience I have ever had, back at the United Palace, and for all the smiles you brought to Diane's face.
---
hotlantatim - 7/12/2018 at 02:44 PM

DavedK - So sorry about all this. Thanks for your contributions to what we enjoyed with the ABB and Gregg & Friends in your time with Gregg.

That tour with Robben Ford was particularly good.....a lot of it because Robben's style was so different than anyone Gregg had ever played with and his ability to do the slide parts without a slide in his unique picking/pull-off way (poor description). It made it unique/new. That was a really good band lineup, too. I have a good recording somewhere that I've played many times.

You were also a part of a nice final, productive run for Gregg in his latter years with his 2 studio albums, Live from Macon CD/DVD, the All My Friends Gregg Tribute at the Fox (+ live CD & DVD); the final epic ABB Beacon nights, Peach Fest & Wanee etc.

Hope your treatments work well. I'll keep you in my prayers and add a contribution to the cause.
---
hotlantatim - 7/12/2018 at 09:19 PM

And what a cool picture of you, Gregg and Clapton. Looks like 2009 Beacon, which had to be a highlight for you (the entire '09 series of guests had to keep you busy!!!)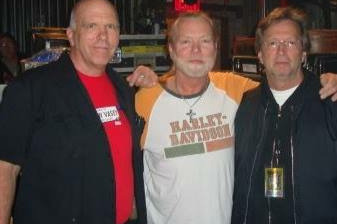 ---
gina - 7/20/2018 at 11:45 PM

There is a former scientist, Physician from France, named Mirko Beljanski who found natural cures to cancer. The government of France was not happy about it because Francois Mitterand was a client of Dr. Beljanski. They govt. had hoped Mitterand would die and then a new leader could be installed. There is quite a story behind all that happened, I have seen Sylvie in person relating it and I think it is true. These herbal supplements do not have any bad side effects. They are particularly effective against prostate, ovarian cancers among others. You should find a Doctor willing to try it on you.


Mirko Beljanski. Mirko Beljanski (27 March 1923 – 28 October 1998) was a French-Serbian molecular biologistwho focused on finding a natural cure for Cancer by using Pao pereira and Rauwolfia vomitoria, notable in the latter part of his career for treating French president François Mitterrand with his discoveries.

His daughter, Sylvie, is continuing to promote the work he did and his therapies are being used by some Doctor's in this country.

https://thetruthaboutcancer.com/mirko-beljanksi/

https://www.beljanski.org/engl/biography-mirko-beljanski-phd/a-lifetime-of- research/

https://www.natural-source.com/us/beljanski-products.html


I hope it helps you and anybody else who may be sick.


---